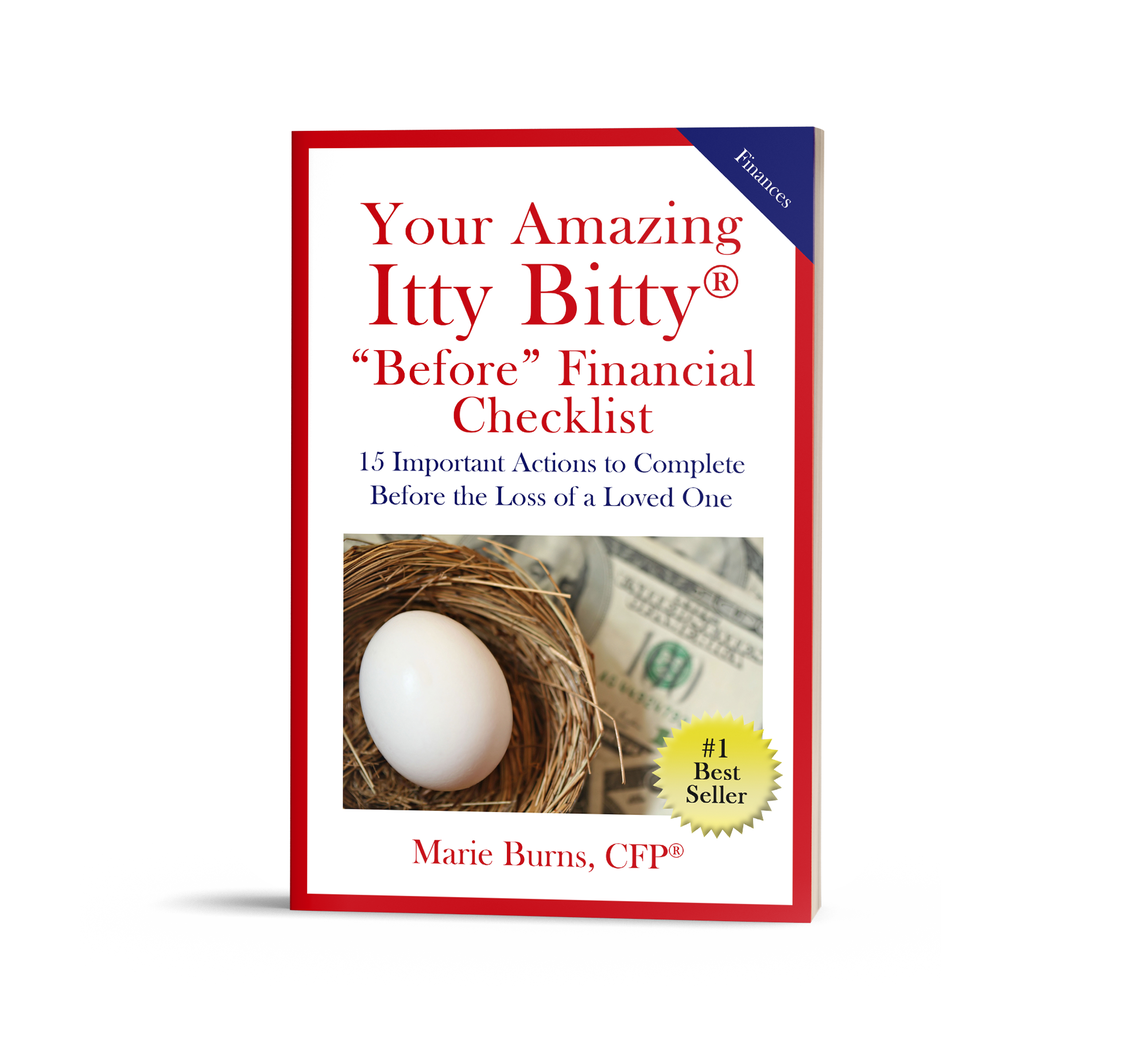 Your Amazing Itty Bitty® "Before" Financial Checklist
This book is helpful if you:
Are starting to assist your aging parents
Are 50+ and thinking about the second half of your life
Never want to cause your family additional financial stress
Want to get your financial house in order
Step 15
The End is Near: The Planning Expert
The tax advisor helps consider taxes, the legal expert gives advice based on the law, but there is no one overseeing the big picture of your financial life with you so consider working with a financial advisor.
A CFP, Certified Financial Planner, has a fiduciary duty to advise on what is in your best interest.
For help acting on the tax and legal advisor's advice, as well as to consider all areas of financial planning, a CFP® can be your advocate and assist in communicating and implementing the advice of the team of advisors.
It's tough; we sometimes don't want our children too involved, this is not an area we are comfortable talking about in detail with other family or friends, so who else can we turn to?
You need someone licensed (so you are protected), experienced (so you are not the guinea pig) and trustworthy (so you don't get hurt), who will care about, and  help to take care of your financial needs.
What a CFP® Can Help With
Estate Planning—assisting with updating beneficiaries, account titling, and charitable/gifting based on the advice of your estate planning attorney and tax advisor.
Education Planning—understanding and investing in college funding options.
Income Planning—income and expense planning with prudent withdrawal strategies in conjunction with a tax advisor.
Investment Planning—monitoring and advising on investing for growth and income in coordination with your tax advisor.
Insurance Planning—analyzing options to address risks associated with death, long term care and disability.
Retirement Planning—lifestyle planning to meet spending goals and needs in retirement to minimize the worry about running out of money.
For more on these chapters and other steps to take before a major life event happens, check out my book the "Before" Financial Checklist: 15 Important Actions to Complete Before the Loss of a Loved One, available on Amazon.
This book is small but jam-packed with so much useful information if you are over 50, approaching retirement or helping aging parents prepare. There is an easy way to transition and a hard way. This book is a guide to the easy way.
Diane Markins / Amazon Reviewer
---
So much great information in this book! It really does take you step-by-step and guides you on how to plan for these unfortunate events. It's short and sweet but gives you all the information you need, even things you would never think about needing to do. I even purchased a few of them for my friends who are helping their aging parents.
Marcia B / Amazon Reviewer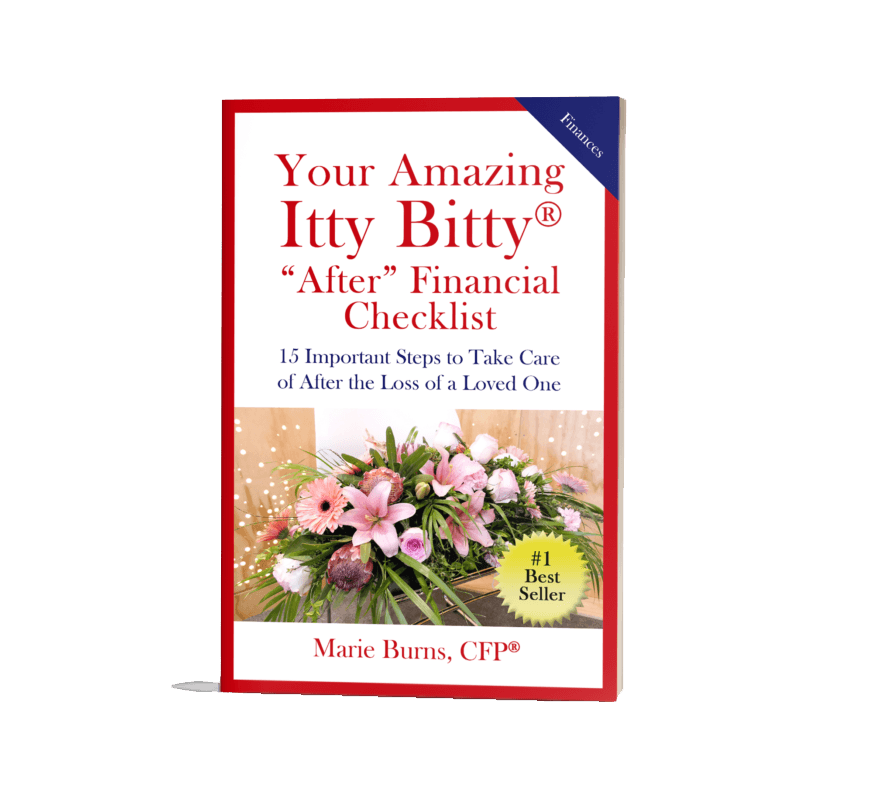 Your Amazing Itty Bitty® "After" Financial Checklist
This book is helpful if you:
Are thinking ahead regarding your own estate
Have lost a spouse, parent, friend, or other family member
Are aware of a terminal condition and trying to prepare for what's to come
Are unsure about what is involved after the loss of a loved one and want to become more aware
Step 11
The First Month: Miscellaneous "To Dos"
Go to the DMV (Department of Motor Vehicles) to cancel driver's license and transfer vehicle title.
Notify the Registrar of Voters.
Cancel any medication prescriptions, print subscriptions, and memberships.
Delete online personal accounts: email, social media, business sites, etc., to avoid fraud or identity theft. Procedures for each will vary.
Send out acknowledgements for cards, donations, etc., if you've decided that is something you want to do. This can also be delayed until a time that you are ready and able to tackle this project.
Contact the Post Office with forwarding information, if necessary.
Cancel all services no longer needed, i.e. phone, internet, cable, etc.
Marie has provided two amazingly simple, but well-defined booklets that answer the BIG questions for many who are anticipating or have lost a loved one. I found them insightful because they took what felt like giant fears of "unknown tasks," out of my journey as a new widow.
---
This is a great guide to addressing all those important details in a loved one's financial history. You will be glad you have this book to help you through it.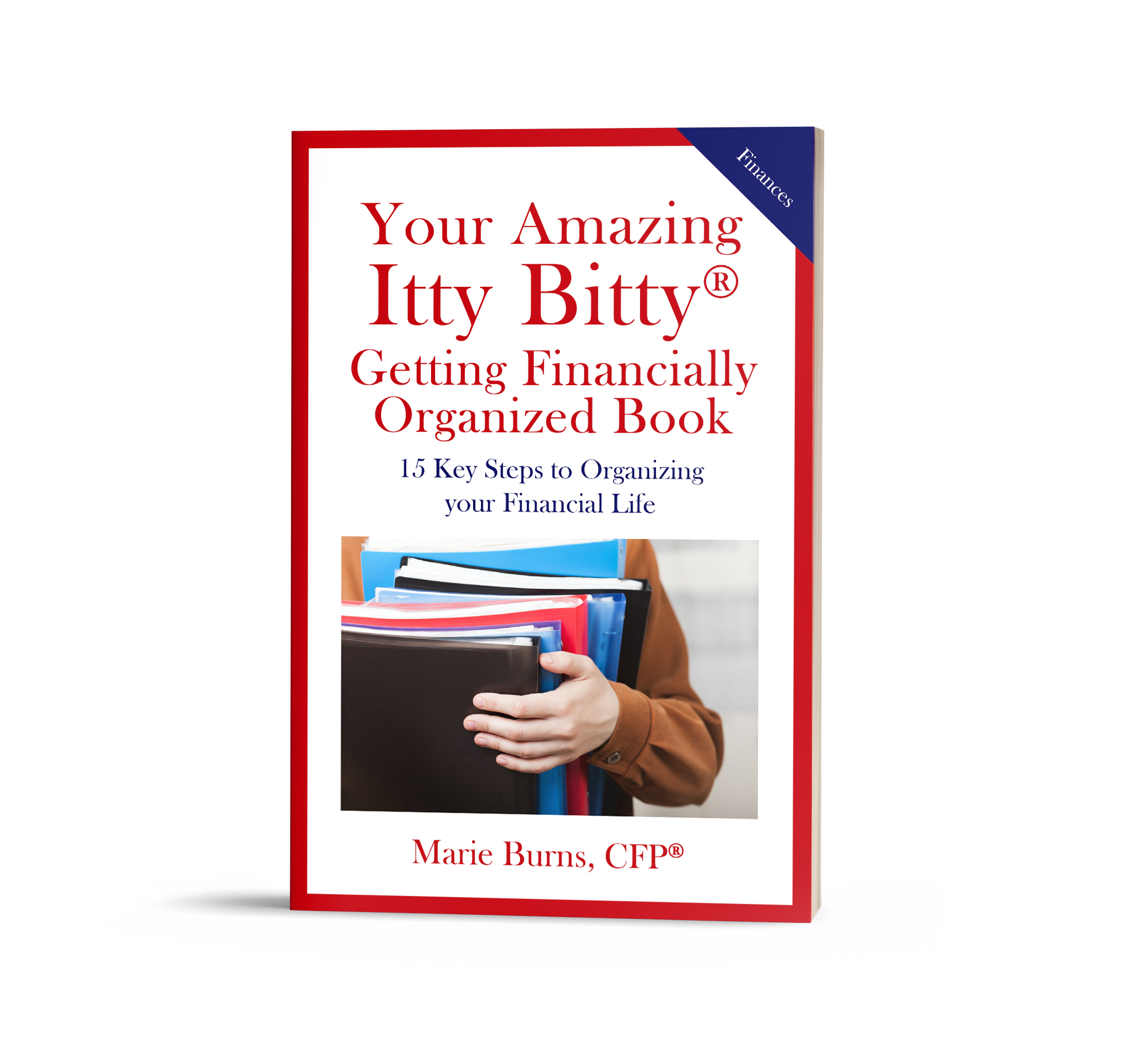 Getting Financially Organized
This book is helpful if you:
Are trying to get your financial records organized and up-to-date
Want to make sure your documents accurately reflect your wishes
Want to ensure a shorter, less stressful and often less costly process for your family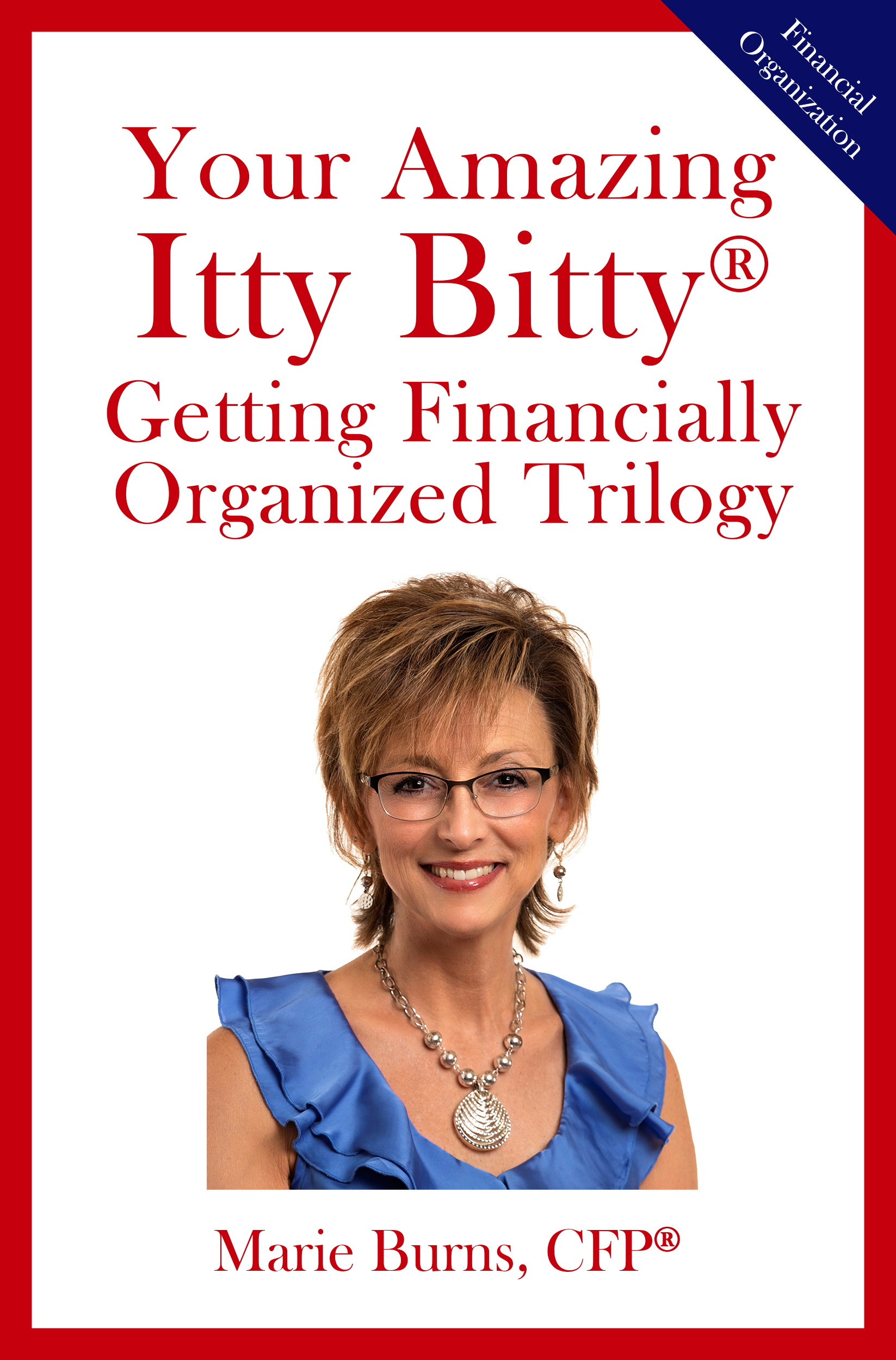 Getting Financially Organized Trilogy
Three Amazing Itty Bitty Financial Organization Books bound into one book. 
All the information you need to get your financial house in order is in these three Itty Bitty checklist books – all combined into one book:
Your Amazing Itty Bitty® "Before" Death Financial Checklist
Your Amazing Itty Bitty® "After" Death Financial Checklist
Your Amazing Itty Bitty® Getting Financially Organized Book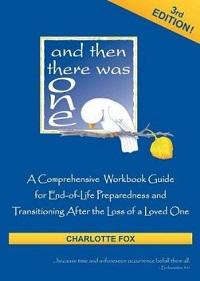 Book by Charlotte Fox
Guidelines for End-of-Life Preparedness
A comprehensive step-by-step workbook to promote conversation, express your wishes, ease transition, and protect your survivors when a loved one dies. This 264-page workbook provides over 70 fill-in-the-blank forms to prepare your estate plan before and after the loss. Help protect your survivors so they have all the information necessary to effectuate your estate upon your death.
What others using these checklists have said:
Super helpful and easy to read!
All of the checklists are super helpful and easy to read. It's just making time to do them that is hard but I've made a goal for myself to do one thing a week that hasn't been done. I do feel good when I can check something off that I've already done too!
How can you get your mind and money in motion?