Empty Nesters: After Your Kids Leave Home
Your children are getting ready to leave home (or maybe they already have), so now what? Your money planning (and life) doesn't stop when you become an Empty Nester. Here are some financial planning tools to keep you focused and taking action for LESS WORRY, MORE LIFE!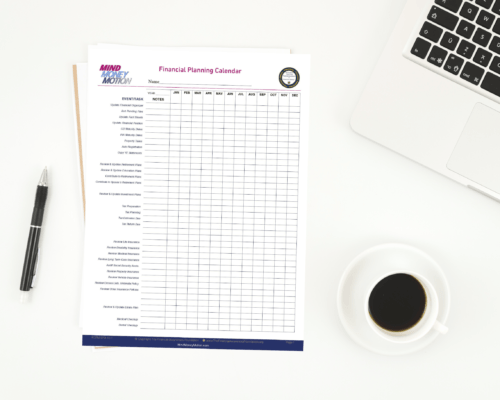 Financial Planning Calendar
Use this checklist calendar to make sure you are always updating crucial documents and reviewing your finances to keep up with life's changes.
Get started on your planning with this FREE Checklist!
Freebie: Financial Planning Calendar
By downloading, you are agreeing to receive communications from Mind, Money, Motion. You can opt-out at any time!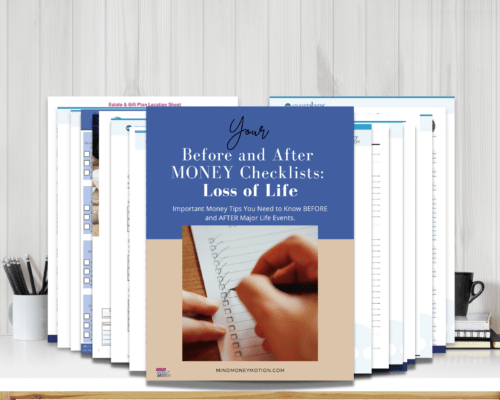 Empty Nesters Bundle
Money checklists and resources to help you plan for when your children leave home.
Get started planning now!
Empty Nesters Bundle
What You Get!
The Empty Nesters Bundle includes checklists and money tools to help you with financial planning situations that happen in this stage of your life to stay on track toward retirement.
Before and After Post-Secondary School Checklist
Before and After Loss Bundle

Autopilot Your Finances Checklist

Financial Checkup Quiz

Financial Planning Calendar

Information About your Home Checklist
Insurance Summary

Legacy LifePrint: Letter and Stories

My Net Worth Overview

Power of Attorney Checklist

Ultimate Home Money Makeover Checklist

Writing a Will Worksheet
Now that you have more time, get caught up on planning for your future with the Empty Nesters Bundle.
Get your Empty Nesters Bundle today!
What others retirees have said:
Encourage us to become organized
"I showed my husband the forms and he was impressed. These resources will help and encourage us to become organized."