Everyone: Planning for Unexpected Events
Estate Planning for Everyone
Money Checklist Bundle for All Ages
Are you and your family financially prepared for a major, unexpected life event? Put your financial house in order NOW with the Estate Planning for Everyone Bundle so you and your family have less to worry about LATER.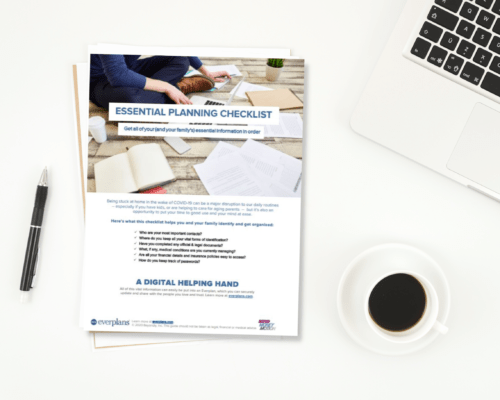 The Essential Planning Checklist
Organize and document essential information with this checklist.
Get started on your planning with this FREE checklist!
By downloading, you are agreeing to receive communications from Mind, Money, Motion. You can opt-out at any time!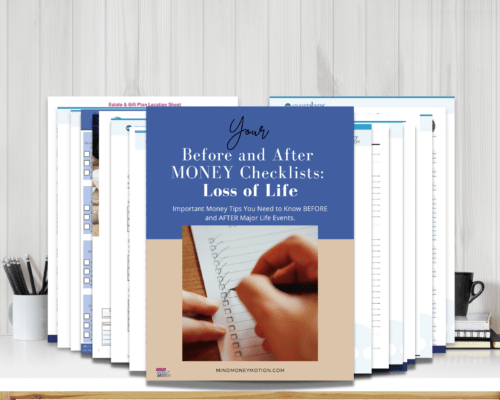 The Everyone Bundle
Over 32 Estate and Financial Planning checklists and resources to help you plan throughout life.
Get started planning now!
Everyone Bundle
What You Get!
The Everyone Bundle includes 32 checklists and money tools to help with your estate planning and other financial planning situations that happen throughout life.
Before and After Loss Checklist

Digital and Online Accounts Sheet

Essential Planning Checklist

Estate Plan Location Sheet

Estate Plan and Gift Outline

Ethical Will Worksheet

Executor Checklist

Family Tree Worksheet

Final Wishes Checklist

Financial Checkup Quiz

Financial Planning Calendar

Having Surgery Checklist

Hiring an In-Home Caregiver Checklist
Historical Net Worth Sheet

Information About Your Home Checklist 

Insurance Summary

Legacy LifePrint: Letters and Stories

My Net Worth Overview

Nursing Home Checklist

Personal Property Distribution List

Pets Worksheet

Power of Attorney Checklist

Safe Deposit Box Inventory Checklist

Ultimate Home Money Makeover Checklist

Writing a Death Notice or Obit

Writing a Will Worksheet
Start building better money habits and get financially organized with the Everyone Bundle.
Get the Everyone Bundle today!
What others using these money tools have said:
Super helpful and easy to read!
All of the checklists are super helpful and easy to read. It's just making time to do them that is hard but I've made a goal for myself to do one thing a week that hasn't been done. I do feel good when I can check something off that I've already done too!